(Photo taken in late June 2018)
Estimated Settlement Dates 
Stage 1 & 2: 3rd quarter 2018
Stage 3: 4th quarter 2018
Stage 4: 2nd quarter 2019
Stage 5: 4th quarter 2019
Stage 6: 1st quarter 2020
Disclaimer: Information above is good at the date of post and is an estimate from the vendor.
Major construction is well underway on the Ballarat Line Upgrade.
The project will deliver more services and improved reliability for Melbourne's outer-western suburbs, Bacchus Marsh, Ballan and Ballarat. In recent months we've made some major progress. 
In early May, while coaches replaced trains, the largest program of works yet took place on the Ballarat Line Upgrade.
Over the course of four days 200 of our team worked night and day at sites stretching from Caroline Springs to Millbrook.
More than 15 kilometres of safety fencing has now been installed, meaning we can get on with adding a second track between Caroline Springs and Melton.
Also underway is construction on the Rockbank Station rebuild, a new rail bridge over Toolern Creek, new stabling at Maddingley and a passing loop at Millbrook.
All of which gets us closer to more frequent and reliable services.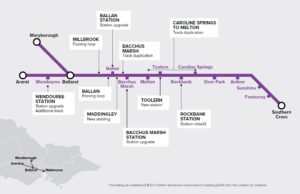 (Source: regionalrailrevival.vic.gov.au)
Link to full article:
http://regionalrailrevival.vic.gov.au/__data/assets/pdf_file/0019/310924/RRR-Ballarat-Line-Newsletter-Winter-2018.pdf