Relax and Enjoy Life 
LOCATION
Only 40 minutes drive to Brisbane and an hour drive to the Gold Coast
Located in one of Queensland's oldest provincial cities, this incredible new development was crafted from a simple vision to create a beautiful place to live. Imagine a community where you know your neighbours, the kids are outside riding bikes and your work life balance is perfect. Palm Views Estate is where your vision will be realised, have the best of both worlds enjoying life and relaxing knowing your future is secure.
Not only is the estate within driving distance to Brisbane and the Gold Coast, Ipswich is strongly positioned in the South East Queensland economic geography as a key Regional Economic Corridor located centrally between the major rural production area and the metropolitan centre and served by a heavy rail network and major road arterials. It is recognised by the State Government as a key area for economic growth in Advanced Manufacturing, Transport and Logistics, Traded Health and Education and Agribusiness.
You'll enjoy an authentic community atmosphere, which will be perfect for every stage of your life. Palm Views Estate will be a place you will love to call home.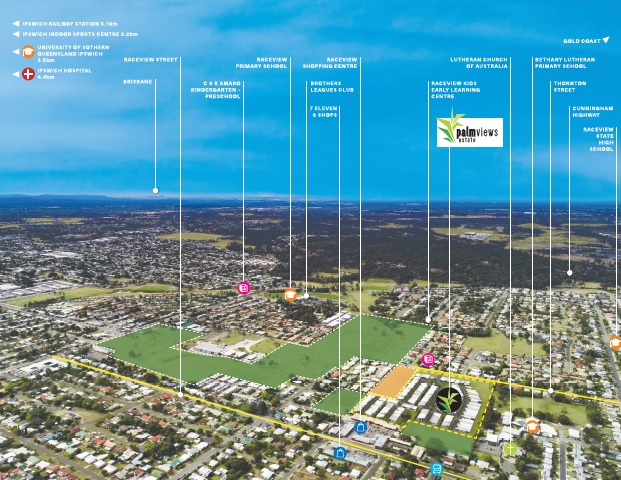 Architecture
Seek the perfection you've always dreamt about for your new home with our modern designs and architectural features. Discover luxury 4 bedroom homes with vast open plan living areas, outstanding features and stunning outdoor landscaping. Just minutes stroll from Ipswich CBD, you will have dining, entertainment and shopping right on your doorstep. A divine mix of vibrant urban edge and charismatic charm, these homes include spacious lounge / dining areas, state of the art kitchens, luxe bathrooms and powder room, guest bedroom and as well as an outdoor entertaining space.
Entertain in superb style - enjoy the stunning outdoor terrace areas through the Spring and Summer months. The light filled spaces of these breathtaking homes will welcome you with a gentle ambience and a relaxed stylish luxury. Step inside a home awash with the warmth and tranquillity of natural light.

Lifestyle
Ipswich is an exciting place to live, work and invest. The city offers an ideal lifestyle, combining heritage charm with the benefits of a modern, exciting metropolitan lifestyle. With over 550 parks and reserves to choose from, including heritage rich Queens Park you and your family will enjoy a recreational lifestyle.
As you descend the hill entering Ipswich Central from the East, you will be captivated by its green expanse. Visit the renowned Ipswich Nature Centre which has been in operation since 1936 to view some cute animals such as wombats, bibies and quolls. If you're a movie buff, drop by the heritage-listed 'Incinerator Theatre' designed by Walter Burley-Griffin. Or if you're looking for some time out, take a stroll around the beautiful and relaxing Japanese Nerima Gardens.
Art lovers will delight in a visit to the Ipswich Art Gallery, this award-winning space occupies a beautifully restored heritage building in the CBD. This city has something for everyone, also hosting regular national and local festivals such as Ipswich Cup, drag-racing's Winternationals and Queensland's 400 V8 Supercars.
Shopping
The Ipswich Riverlink Shopping Centre boasts over 100 speciality stores with all the major retailers such as Coles, Kmart, Target, Woolworths, Aldi, JB Hi Fi, Best & Less, Priceline Pharmacy and the brand new Limelight Cinemas. Everything old is new again! if you don't mind a bit of op shopping, discover some beautiful old eclectic trinklets and antiques at one of the many second-hand shops in the area.
Eating out
With a diverse range of options for dining, Ipswich really is up there with some of the best Australia. If you're looking for fine dining, terrific coffee or a hearty breakfast, it won't disappoint. Famous for its local beers and burgers to compliment - take a trip and discover some drool-worthy dining destinations in the area.
Wineries
Established in 1984 with 6 acres of Chardonnay, Grenache and Shiraz vines the 'Ironbark Ridge Vineyard' is one of the oldest in the region. Or take a short drive to the Flinders Peak Winery and sample some amazing certified organic wines for a healthier version.
Family Timeout
Home to some of the most breathtaking waterways, creeks and catchments, the options are abundant for recreational activities such as fishing, paddling, swimming and walking. Take advantage of over 8,500 hectares of open space for enjoyment with your family and picnic at the local parks boasting playground equipment, sports fields and facilities and BBQs. Or take a cycle on one of the many convenient biking tracks.
Education 
Schools and Universities
Learning plays an important role for families wishing to live in the area with two universities and a wide choice of private and state government schools, the choice is comprehensive. Ranging from primary to secondary schooling with private and public opportunities. The University of Southern Queensland (USQ) also has a campus located in Ipswich, offering a range of degrees, the campus continues to grow in the region.
Childcare
There is an abundance of nurturing early childhood centres catering for children from birth up to pre-school age. All located in proximity to the city centre and outer suburbs, there is many convenient choices for your little one to learn and play in an innovative way.
Facilities
Health
Catering to health needs is a priority for the region with two hospitals - Ipswich Hospital and St Andrew's Ipswich Private Hospital. The Ipswich Hospital offers all major health specialities including emergency and intensive care and maternity. A major extension of the hospital was completed in 2014, transforming it into a state-of-the-art medical facility to help meet the capacity of growing health needs in the area.
The St Andrew's Ipswich Private Hospital is revolutionising private health care in Ipswich as a highly functional acute care facility. With its current expansion due for completion in late 2018 - the hospital will boast the regions first private emergency department, a new intensive care unit with 81 new private patient rooms and a new Women's and Children unit providing quality obstetric and paediatric services.
Sporting
Evolving over the years into a premier sporting event destination, hosting such events as Ipswich Cup and the Queensland Open Golf - your new life has never been more enticing. With over 150 sporting clubs and organisations in the area, the city is equipped with the infrastructure to host a wide range of sporting events such as netball, basketball, football, hockey, rugby, swimming and mountain biking.
Keeping fit
The Ipswich Council actively works with local community to keep them active and healthy - offering the residents free and low-cost physical activities, sports,recreation and wellness programs.
Transport
Transport
Ipswich also has the benefit of being only 60 minutes drive to domestic and international airports and has many options for public transport, including buses and trains - plus quick access to motorways.
A number of community transport services exist to help people with a disability travel for shopping, medical and social activities. Free shuttle services exist for both the Ipswich and the St Andrews Private Hospitals.
Warehousing
Ipswich is recognised as a major warehousing logistics hub for product distribution across and Australia and internationally due to its location and easy access to the western food bowl, the Port of Brisbane and Brisbane Airport.
Defence
Ipswich is home to the Australia's largest military air base; the RAAF Base Amberley.
Whilst all details have been carefully prepared and are believed to be correct, no warranty can be given either expressly or implied by the vendors or their agents. Intending purchasers must rely on their own enquiries. Photographs and images are indicative and for illustrations purposes only. Prices correct at time of print. This is an overseas investment. As overseas investments carry additional financial, regulatory and legal risks, investors are advised to do the necessary checks and research on the investment beforehand.