Eg. A$400,000 Apartment 
Previous Stamp Duty ~ A$40,000 
New Stamp Duty After Rebate ~ A$10,000 
You save A$30,000! 
Terms & Conditions Apply.
First Residential Project in the A$5 Billion Perth City Link Precinct Development
Large Luxurious 1-Bedroom Apartment from only A$347,000 or A$603 psf
Location! Location! Location!
A Prestigious Project by Renown Developer Far East Consortium
FIRB (A$5,800) Absorbed       

Earn Interest on Deposits      

Free Blinds         

Free Storage 

SGD Financing Up to 70% Available from Singapore banks*
SELLING FAST!
large  LUXURIOUS oNE-bedroom unit from  ONLY a$347,000 
Welcome to a Truly integrated Lifestyle
Perth Hub will fuse all old and new by connecting the lively suburb of Northbridge with Perth's vibrant CBD for the first time in 100 years. And it will do it in style.
Positioned at the western end of Perth City Link precinct*, Perth Hub will be the perfect combination of contemporary residential accommodation, world class arts and entertainment, shopping and dining, lush gardens, bustling squares and an extensive transport network on your doorstep - a true celebration of the very best that city living has to offer.
World-regarded pristine beaches are also easily accessed from this lively precinct.
*Perth City Link is one of the city's most exciting redevelopments. This area, once just a network of bus and train connections, will become an exciting destination with housing, shops, restaurants, offices and more. Read more...

With Perth Central Train Station and Perth underground Busport at your doorstep, the city of Perth is all yours. You are a hop, skip and a jump away from the best facilities in Perth including the University of Western Australia, elite schools such as St. George's Grammar School and Mercedes College, and the Royal Perth Hospital.
Perth Hub occupies the city block bordered by Wellington, Milligan, Maaman Streets and Telethon Avenue, and will offer residents and visitors a unique urban lifestyle experience to rival the world's most iconic cities.
Located to the west is the RAC Arena Perth (formerly Perth Arena), WA's landmark home of live entertainment, music and sports events.
To the north lies Milligan Steps, a vibrant pedestrian-only 'Spanish Steps' style plaza that bridges Perth City to the vibrant entertainment district of Northbridge. The vision for Milligan Steps is a hub of restaurants, cafes and bars.
Kings Square encompasses the eastern corner with its commercial headquarters, Wellington Gardens' urban landscapes and its laneways of restaurants, cafes and bars. Slightly further east is Yagan Square - Perth's latest attraction and 'the' place to meet, eat, shop and play.
Wellington Street, a tree-lined boulevard running west-east with free city loop bus stops and dedicated cycle paths, forms the southern border. From here you can literally step into the Perth CBD.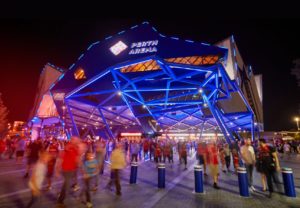 RAC Arena Perth
This venue is widely reported as Australia's finest - which comes as no surprise as it is operated by the same team behind the globally-acclaimed Staples Centre in LA. A capacity of just 15,000 ensures an intimate experience with wow factor, amongst breath-taking architectural design and state-of-the-art technology, this is the place to witness your stars in action. RAC Arena Perth serves as a perfectly accessible entertainment venue for Perth's South-East Asian neighbours, attracting the biggest stars and acts from around the globe and thousands of international visitors every year.
Architecture Inspired by the environment 
The architectural design is contemporary, sculptural and unique whilst drawing on the context of its nearby city landmarks - the geometric forms of RAC Arena Perth to the west, the glass towers of Kings Square and the organic contours of Yagan Square to the east.
The tower is envisaged as a polished and crystalline glass jewel. It is elegant and timeless, capturing changing 'dappled reflections' of Perth's city skyline, famous clear blue skies and stunning sunsets.
The podium is grand and civic in nature, reflecting the scale of the RAC Arena Perth, as well as its prime position on the Wellington Street boulevard. The precast concrete has a robust honest materiality with textural references to the fine pitting and layering of peeling paperbark trees - which were the site's native flora centuries ago. This is contrasted with the delicate 'strata seams' of glass and perforated metal of the concealed carpark openings.
Perth Hub will provide thirty levels of contemporary, residential and apartments in the heart of Perth. A seven-storey podium will sit at the base of the tower, which will conveniently incorporate residents amenities, car parking, commercial and retail spaces. A lush sky garden waistband will separate the podium from the residential tower, completing this ultimate city-living package.
ENJOY A VIP WELCOME
Perth Hub residents will enter via a spectacular hotel-like lobby with soaring 6m ceilings, backlit feature glass lanterns and design references to the site's history.
A dedicated onsite building manager will ensure all of the building's services run smoothly, serving as a key point of contact for all resident enquiries.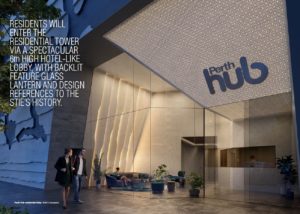 THe Sky is the limit
Arriving at the Level 7 skygarden, residents will be transported into a sublime city resort setting with approximately 1400sqm of amenities. Soak up the retreat environment with views overlooking RAC Arena Perth, Milligan Steps and the city skyline.
Level 7 residential amenities include: 
Residents' private dining room including full kitchen
Residents lounge with large screen TV and fireplace
Garden terraces
BBQ pavilion
Outdoor pool and landscaped pool deck
Sauna room
Gymnasium including yoga and pilates rooms
Communal orchard garden with citrus trees and herb garden
Bathroom facilities

DESIGN PERFECTION
You have the choice of one, two and three-bedroom apartments. Each enjoy floor to ceiling windows for light-filled spaces, most with views across Northbridge, RAC Arena Perth, and Perth's CBD. Glimpses of Swan River and Kings Park can also be enjoyed by some.
Tower apartments will also feature winter gardens complete with automated lift-and-tilt windows.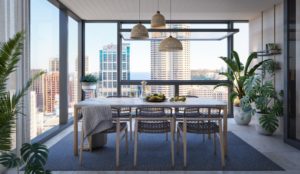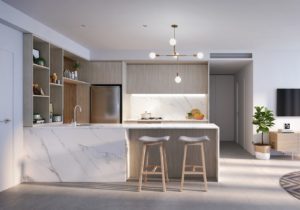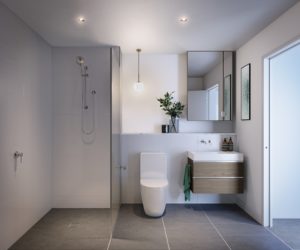 Apartment finishes and colour palettes have been carefully selected to create a sense of calm and comfort. Kitchens feature stone benchtops and splashbacks, gas cook tops and feature shelving. Tiled flooring and elevated ceiling heights of 2650mm create a sense of space and openness throughout.
Various Apartment Types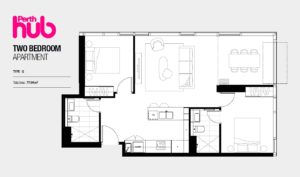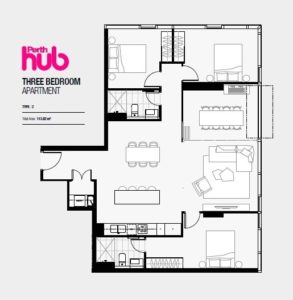 CALL US NOW TO RESERVE YOUR CHOICE UNITS!
Whilst all details have been carefully prepared and are believed to be correct, no warranty can be given either expressly or implied by the vendors or their agents and do not form part of the contract. Intending purchasers must rely on their own enquiries. Photographs, images and figures are indicative and for illustrations purposes only. Prices are correct at time of print. This is an overseas investment. As overseas investments carry additional financial, regulatory and legal risks, investors are advised to do the necessary checks and research on the investment beforehand. Past performance is not necessarily indicative of future performances.